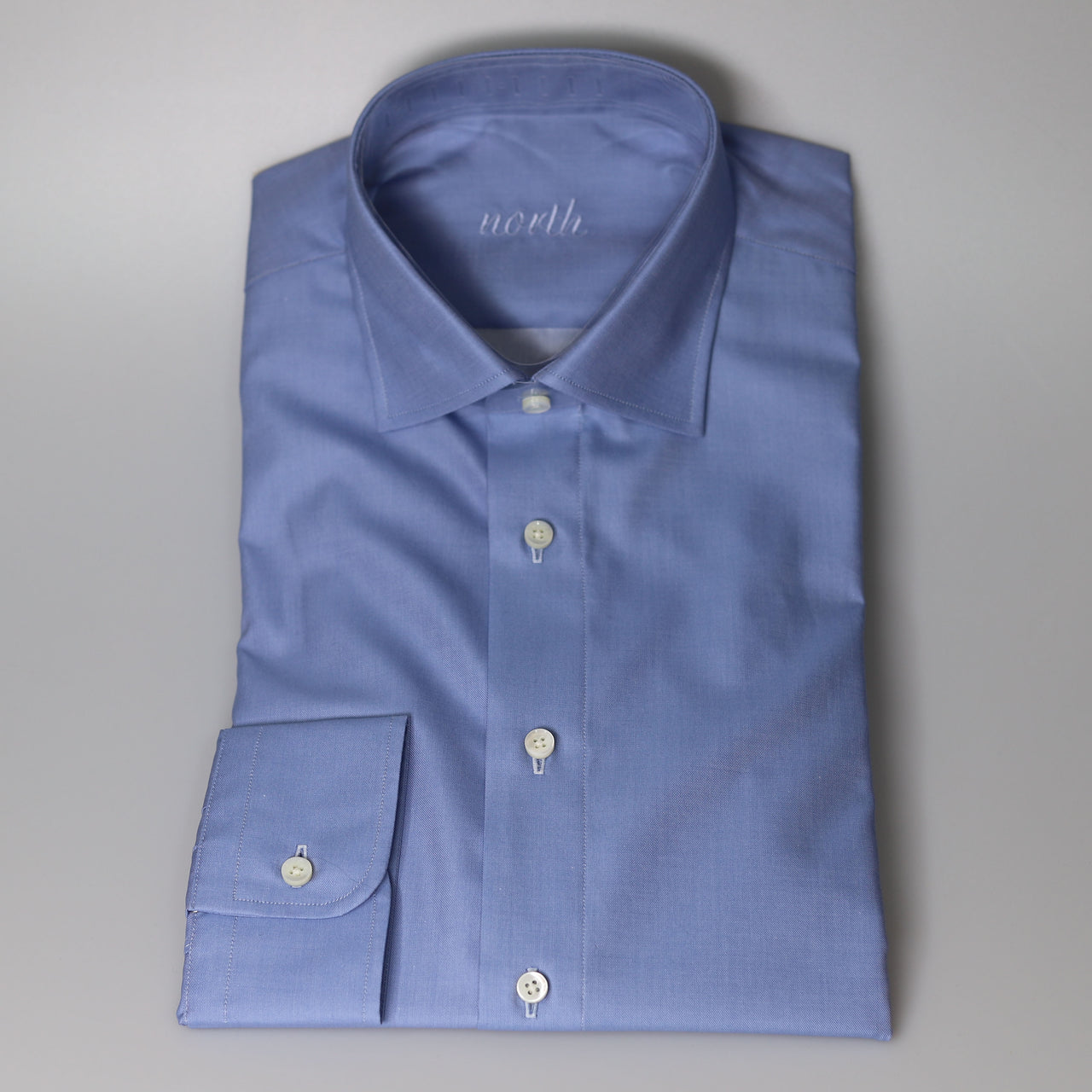 This tailored fit garment (check table below for more detailed measurements) is the perfect addition to any wardrobe. Made in 100% twill easy care cotton from the Mileta Mill Timeless Business collection in the Czech Republic.
Concealed button down Windsor collar
Tail shirt with tonal butterfly gusset
Flat back yoke with 2 back darts
Rounded 1 button cuff
Mother of pearl buttons
All measurements are approximate and are taken while garment is laying flat on the ground.
| | | | | | | | | | |
| --- | --- | --- | --- | --- | --- | --- | --- | --- | --- |
|   | 38 | 39 | 40 | 41 | 42 | 43 | 44 | 46 | 48 |
| Armpit to Armpit | 51.5 | 53.5 | 55.5 | 57.5 | 59.5 | 61.5 | 63.5 | 67.5 | 71.5 |
| Stomach Width | 47.5 | 49.5 | 51.5 | 53.5 | 55.5 | 58.5 | 60.5 | 66.5 | 70.5 |
| Seat Width | 51.5 | 53.5 | 55.5 | 57.5 | 59.5 | 61.5 | 63.5 | 67.5 | 71.5 |
| Shoulder Width | 14.5 | 15 | 15.5 | 16 | 16.5 | 17 | 17.5 | 18.5 | 19.5 |
| Back Width | 41.9 | 43.3 | 44.7 | 46.1 | 47.5 | 48.9 | 50.3 | 53.1 | 55.9 |
| Sleeve Length (Inc Cuff) | 66.5 | 66.5 | 66.5 | 66.5 | 66.5 | 66.5 | 66.5 | 66.5 | 66.5 |
| ½ Cuff Width | 12.5 | 13 | 13 | 13.5 | 13.5 | 14 | 14 | 14.5 | 14.5 |
| Short Sleeve Length | 30 | 30 | 30 | 30 | 30 | 30 | 30 | 30 | 30 |
| ½ Cuff Short Sleeve | 21 | 21.5 | 21.5 | 22 | 22 | 22.5 | 22.5 | 23 | 23 |
| Armhole Depth | 20.5 | 21 | 21.5 | 22 | 22.5 | 23 | 24 | 25 | 26 |
| Shirt Length | 72.5 | 74 | 75.5 | 77 | 78 | 79 | 80 | 81 | 82 |